WELCOME TO AKLER EYE CENTER'S DOCTOR RESOURCE PAGE
At Akler Eye Center, we want to be a resource to you and your patients. We pride ourselves on providing personalized comprehensive ophthalmologic care to patients of all ages. We offer consultation and management in all areas of ophthalmology including cataract surgery, LASIK, glaucoma management, and evaluation and management of retinal disorders. Your patients will be seen in a timely fashion and consultation reports will be sent within 24 hours. We also offer LASIK and refractive surgery comanagement.
LATEST NEWS – ANNOUNCING DROPLESS CATARACT SURGERY
Patients undergoing cataract surgery currently use pre, peri, and postoperative antibiotic, steroid, and non-steroidal anti-inflammatory eye drops to prevent endophthalmitis and control postoperative intraocular inflammation. The steroid and nonsteroidal drops also prevent cystoid macular edema (CME) postoperatively. The current eyedrop regimen is expensive and confusing for patients, requiring multiple drops to be administered for up to 4 weeks after surgery. Lack of compliance with the current regimen increases the patient's risk for postoperative complications.
At Akler Eye Center, we are pleased to offer transzonular injection of TriMoxi, a combination antibiotic and steroid medication administered at the time of cataract surgery, thus dramatically reducing the patient's need for postoperative eye drops. The patients are thrilled with the convenience and cost-savings this technique provides. Safe and effective, TriMoxi has been injected in over 14,000 eyes with no reported cases of endophthalmitis. If you want to learn more about this cutting-edge technique, please attend our CME dinner this fall (see information above).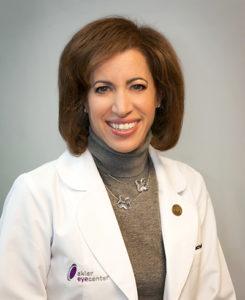 Michelle Akler, M.D.
Akler Eye Center